T Cell Receptors Targeting p53 Mutations for Cancer Immunotherapy and Adoptive Cell Therapy
E-Numbers
E-237-2017-0
E-237-2017-1
E-237-2017-2
Co-Inventors
Malekzadeh, Parisa (NCI)
Lo, Winifred (NCI)
Yoseph, Rami (NCI)
Robbins, Paul (NCI)
Parkhurst, Maria (NCI)
Pasetto, Anna (NCI)
Lu, Yong-Chen (NCI)
Rosenberg, Steven (NCI)
The tumor protein p53 is a cell cycle regulator. It responds to DNA damage by triggering the DNA repair pathway and allowing cell division to occur or inducing cell growth arrest, cellular senescence, and/or apoptosis. p53 therefore acts as a tumor suppressor by preventing uncontrolled cell division. However, mutations in p53 that impair its cell cycle regulatory functions can induce uncontrolled cell division leading to cancer. Certain p53 mutations, termed 'hotspot' mutations, occur at high frequency across patients and diverse cancer types, such as cholangiocarcinoma, melanoma, colon cancer, rectal cancer, ovarian cancer, endometrial cancer, non-small cell lung cancer (NSCLC), glioblastoma, uterine cervical cancer, head and neck cancers, breast cancer, pancreatic cancer, and bladder cancer. Novel therapeutics that specifically target mutant p53 proteins may be useful for the treatment of many common malignancies.
Researchers at the National Cancer Institute (NCI) have identified a collection of novel T-cell receptors (TCRs) targeting defined hotspot mutations in the p53 tumor suppressor protein (Table 1). These p53 hotspot mutations, including I135Y, R175H, Y220C, M237I, G245D, G245S, R248L, R248Q, R248W, R249S, R273C, R273L, R273H and R282W, are prevalent in cancer cells and are therefore attractive targets for TCR T cell therapy. These TCRs are expected to specifically eliminate human cancer cells bearing these p53 mutations upon adoptive transfer into cancer patients. 
The NCI Surgery Branch is seeking research co-development partners and/or licensees for these T Cell Receptors Targeting Mutated p53.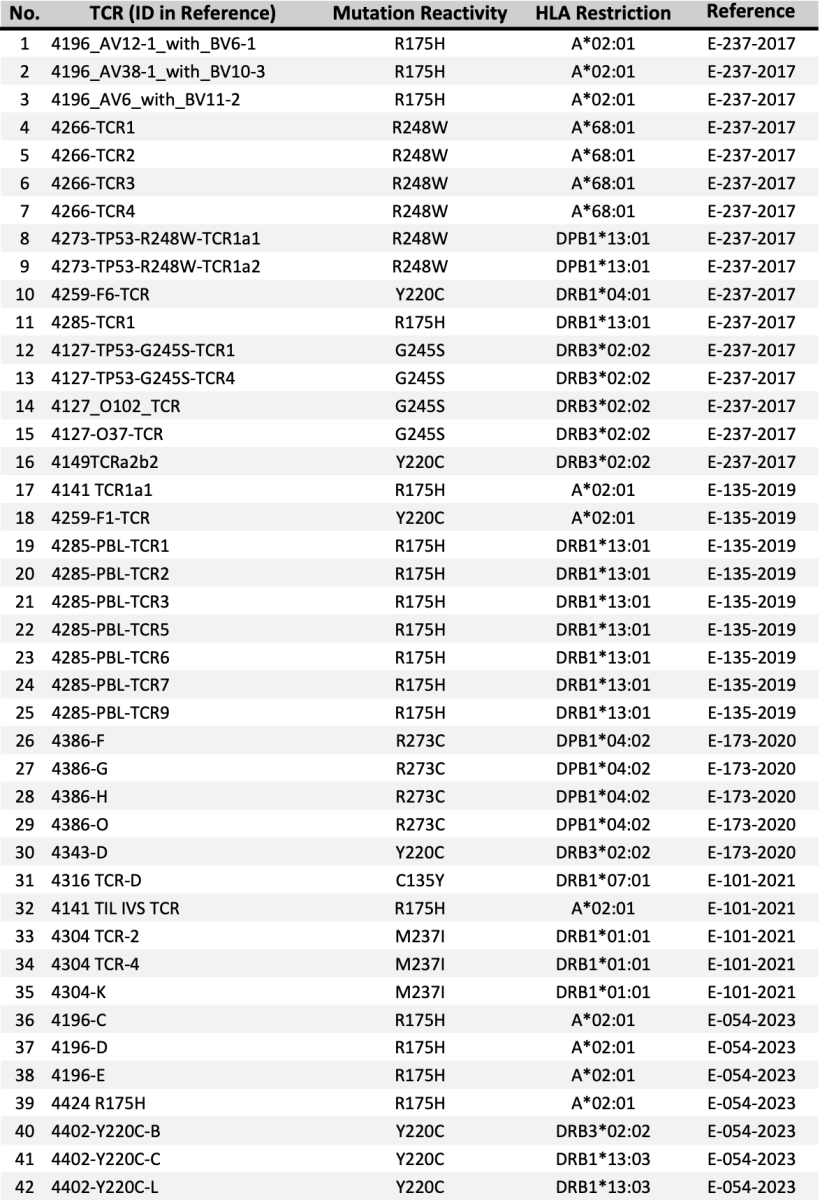 Competitive Advantages:
Mutated p53 is not expressed in normal cells, suggesting the TCR therapy will have a low toxicity profile
Variety of HLA-restriction elements: extends the applicability of TCRs as they recognize mutated p53 variants in the context of multiple HLA molecules
Commercial Applications:
T-cell therapy against a variety of human cancers as p53 is a commonly mutated gene in several human cancers including melanoma, breast cancer, colon cancer, and bladder cancer
TCRs can be used in diagnostic tools to identify presence of p53 hotspot mutations in cancer cells
Use of the TCRs in chimeric proteins for research purposes in cancers with mutated p53