Nandrolone 17 Beta-Carbonates
Co-Inventors
Kim, Hyun (NICHD)
Lee, Min (NICHD)
Therapeutic Areas
Reproductive Health
Endocrinology
The available options for male contraceptives are limited. Androgens are administered as part of hormone-based male contraception and have also been used in the treatment of hypogonadism and hormone replacement therapy HRT. Many synthetic androgens require an oil-based delivery vehicle and have limited durations of action.
This technology describes androgenic compounds and pharmaceutical compositions thereof for use in a number of diseases or conditions, most notably as a potential male contraceptive, and as an androgenic agent suppressing the release of hormones such as the luteinizing hormone. Additional potential therapeutic areas include hypogonadism, osteoporosis, and anemia. 
Since 2016, NICHD has been testing the following lead compound as a male contraceptive in Phase I clinical trials:
Safety and pharmacokinetics of oral single-dose, 28 day repeat-dose, and dose escalation study of 11-MNTDC in healthy men have been conducted.  The drug was well tolerated without serious adverse events.  Daily oral dose of 11β-MNTDC for 28 days in healthy men showed markedly suppressed serum gonadotropins and T concentrations without serious adverse effects.  NICHD is planning another Phase I trial to test 11β-MNTDC via intramuscular injection. 
Researchers at the Eunice Kennedy Shriver National Institute of Child Health and Human Development are highly motivated in seeking licensing and/or collaboration partners for the development and use of androgenic compounds as contraceptives and/or hormonal therapeutics.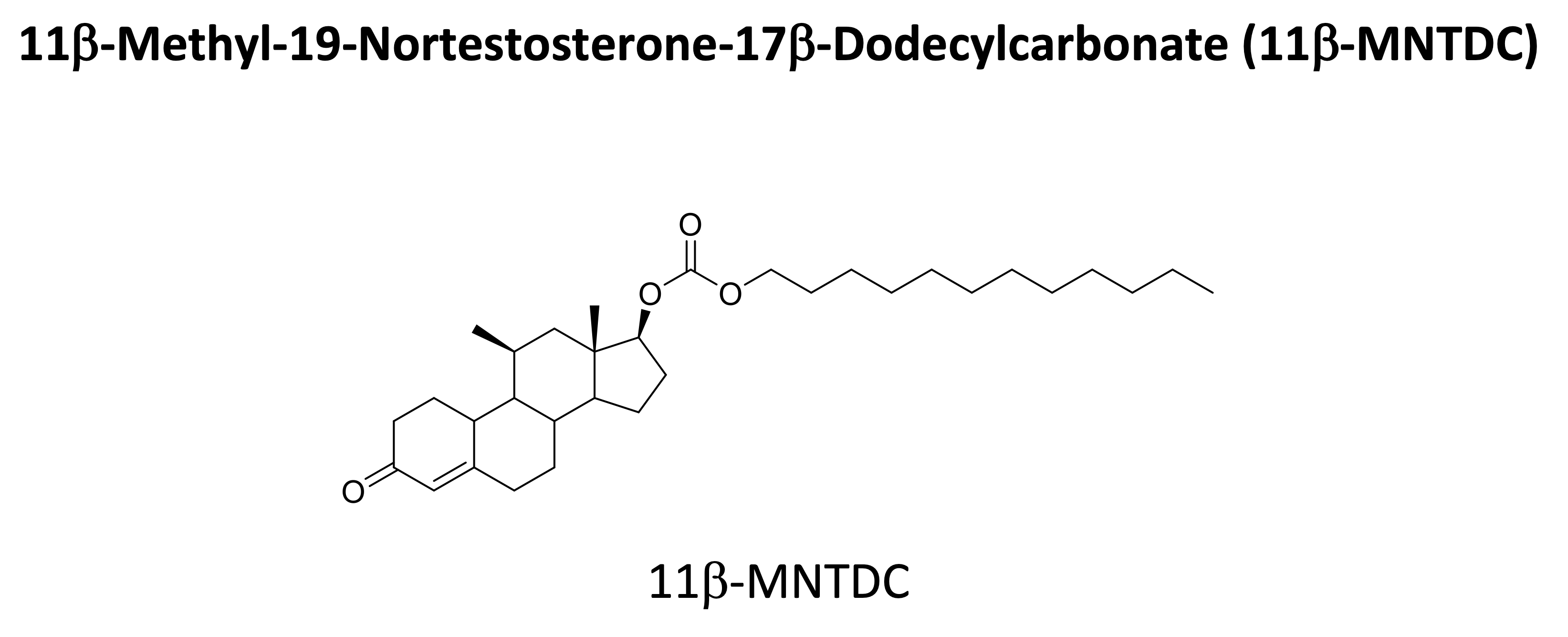 Competitive Advantages:
Significant market need for male contraceptive
Clinical-stage asset
No adverse events in a Phase I dose-escalation study
Intramuscular (IM) injection
Commercial Applications:
Male contraceptive
Treatment of hormonal diseases