NIAID's Technology Transfer and Intellectual Property Office Job Openings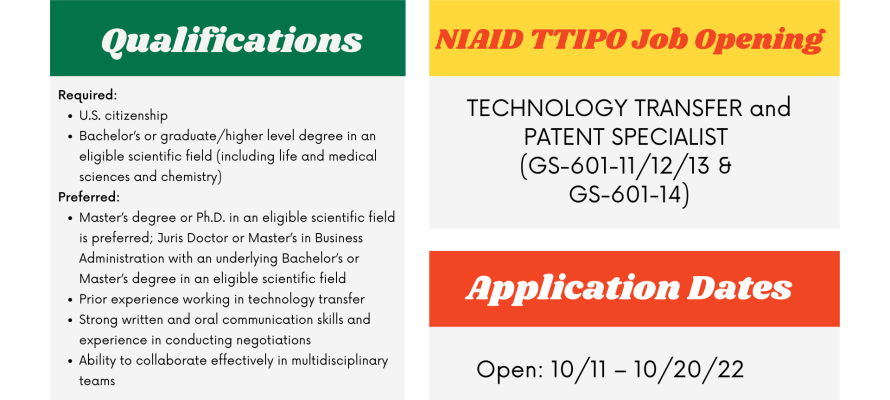 Job Postings Opening October 11! Remote Positions Available!
Are you interested in making an impact to the improvement of global health? Are you interested in working in a dynamic organization that values its employees and offers work-life flexibilities?
The National Institute of Allergy and Infectious Diseases (NIAID), one of the largest Institutes at the National Institutes of Health (NIH), has longstanding experience in discovery and development of diagnostics, therapeutics, and vaccines against microbes that impact public health (such as SARS-CoV-2). NIAID's mission makes it a natural and attractive partner for academic, industry, and nonprofit organizations worldwide.
NIAID is looking for highly qualified and motivated candidates to fill key positions in its Technology Transfer and Intellectual Property Office (TTIPO). If you are interested in transferring inventions from the lab to the marketplace that benefit both domestic and global public health, consider joining TTIPO!
ABOUT NIAID's TTIPO
TTIPO advances the development and commercialization of biomedical inventions from NIAID and the Centers for Disease Control and Prevention (CDC) research labs and provides a return on tax-payer research investment. TTIPO also manages NIAID and CDC intellectual property assets that are assigned to the U.S. Department of Health and Human Services (HHS). Additionally, TTIPO negotiates license agreements, collaborative research agreements, and conditional gifts as well as material transfer agreements.
UPCOMING TTIPO VACANCY ANNOUNCEMENTS
The following vacancy announcements will be posted on USAJOBS in October 11 – 20, 2022. These positions are eligible for remote work. If you are interested in knowing more about these positions, please contact NIAIDInnovation@mail.nih.gov. We are looking forward to speaking with you!
TECHNOLOGY TRANSFER and PATENT SPECIALIST (GS-601-11/12/13 and GS-601-14)
These positions utilize a unique combination of scientific, legal, and business development skills in evaluating biomedical inventions, managing intellectual assets, and negotiating and originating legal agreements. In doing so, the incumbent works closely with scientists, business executives, contract law firms, NIH Office of General Counsel, NIH Office of Technology Transfer, CDC Technology Transfer Office, and others as needed.
Qualifications:
Required:
U.S. citizenship

 

Bachelor's or graduate/higher level degree in an eligible scientific field (including life and medical sciences and chemistry)
Preferred:
Master's degree or Ph.D. in an eligible scientific field is preferred; Juris Doctor or Master's in Business Administration with an underlying Bachelor's or Master's degree in an eligible scientific field

Prior experience working in technology transfer

Strong written and oral communication skills and experience in conducting negotiations

Ability to collaborate effectively in multidisciplinary teams
To Apply:
Visit the Technology Transfer and Patent Specialist vacancy announcements, Open: 10/11 – 10/20/22:
PRODUCTIVITY THROUGH WORK-LIFE BALANCE
TTIPO is located at 5601 Fishers Lane in Rockville, Maryland. TTIPO recognizes the complexity and stresses of life in the 21st century (especially in the Washington D.C. metropolitan area) and offers workplace flexibilities including flexible work hours, telework, and remote work.
Visit NIAID Careers for more information about working in NIAID's dynamic atmosphere and stay tuned for the vacancy announcements noted above!
HHS, NIH, and NIAID are equal opportunity employers dedicated to diversity, equity, inclusion, and accessibility,