Learn How to Form Effective Collaborations with Research Institutions including NCATS/NIH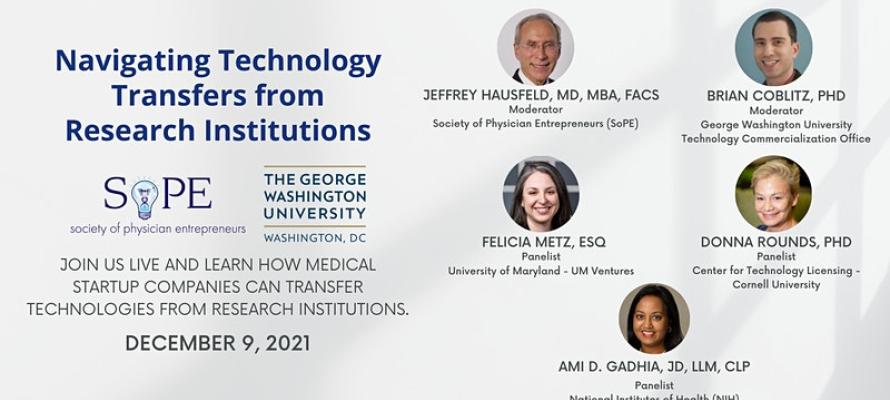 Are you interested in learning how medical startup companies can partner with and transfer technologies from research institutions? Register today for the Society of Physician Entrepreneurs and the George Washington University's webinar, Navigating Technology Transfers from Research Institutions to hear from the NIH National Center for Advancing Translational Sciences (NCATS)'s Ami Gadhia and get your questions answered!
Gadhia is a Senior Technology Transfer and Patenting Specialist within NCATS. She is the perfect person to speak on this topic as she drafts, negotiates, and executes various agreements for joint research and development projects in her daily work. Ami worked at Johns Hopkins Technology Ventures (JHTV) for several years in various roles including as a licensing director, before joining NCATS/NIH. She'll draw on her entire experience in the field in sharing her perspectives.
This webinar will focus on how entrepreneurs can tap into the wealth of available technologies at research institutions like universities and NCATS/NIH. Other panelists include Jeffrey Hausfeld (moderator), Brian Coblitz (moderator and Interim Managing Director of the Technology Commercialization Office at The George Washington University (GWU)), Felicia Metz (Associate Director of University Ventures at the University of Maryland UMD-College Park), and Donna Rounds (Interim Senior Technology Licensing Officer at Cornell's Center for Technology Licensing). All are seasoned technology transfer professionals who will participate in an informative and interactive panel discussion, including a live Q&A.
If you want to learn how your medical start-up can form effective collaborations with different research institutions, then you don't want to miss this event on Thursday, December 9th, 2021 at 12pm EST. It is free to attend, however, registration is required. You can register and find more information here.