Join NCI to Learn About New Opportunity to Partner on a Micro-Dose Calibrator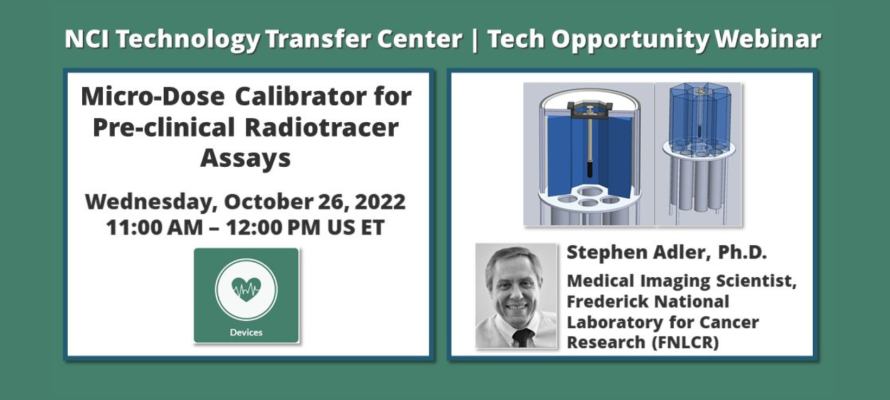 Hear from Dr. Stephen Adler, lead inventor of a new micro-dose calibrator, at an upcoming technology webinar hosted by the National Cancer Institute (NCI).  The discovery is an improved radiation measurement instrument which provides a new level of sensitivity, accuracy, and range for measurement of small radiation doses.
The issue that this technology addresses is that there is currently no way to accurately measure small amounts of radioactivity used in many pre-clinical tracer studies. Using the calibrators currently on the market limits the user as they cannot measure anything smaller than 10 mCi without encountering ±20% measurement errors. This new technology is able to measure as small as 1 picoCI up through 100 mCi.
The Micro-Dose Calibrator has many competitive advantages:
It is a single device that replaces the need to use both a dose calibrator and well counter to cover the full measurement range.

Measures small doses from about 1 picoCI (1.8 kBq) up to 100

m

Ci (3.7 MBq) with 2% accuracy.

Measures volumes of activity up to 20cc without volumetric correction to 1% accuracy.

Applications in measuring clinical doses for Targeted Alpha Radiotherapy.

Applications in tracking immune cell cancer therapies.
Dr. Adler built a fully operational 8 crystal segmented micro-dose calibrator for use in radiotracer assays. The results show the potential for this new device to improve the accuracy and efficiency of work done during the pre-clinical phase of radiopharmaceutical drug discovery. This new device is a working prototype and requires collaboration to manufacture it. NCI seeks parties to commercialize this technology through collaborative co-development or licensing.
If you are interested in hearing more about this opportunity, please join the NCI webinar on October 26th from 11 am to 12 pm ET. Registration is free. More information about this webinar can be found on NCI's website. More information can be found in this technology's abstract here.