FLC Webinar Series to Feature Two NIH Instructors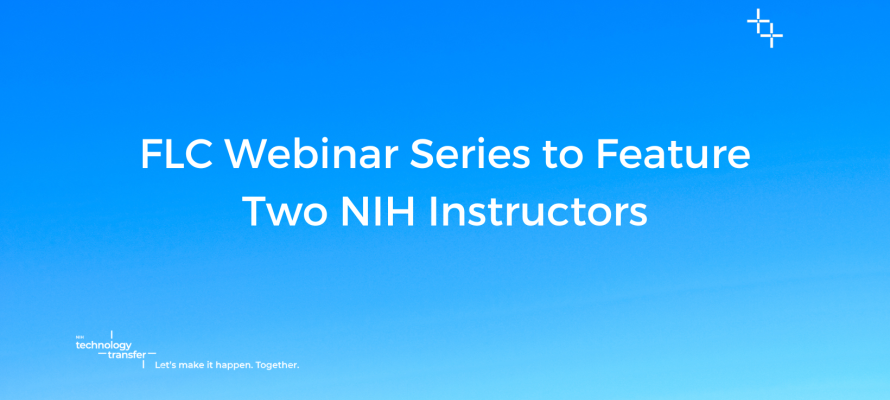 The Federal Laboratory Consortium has two upcoming webinars featuring NIH instructors.
Steve Ferguson of the NIH Office of Technology Transfer (OTT) is hosting Anatomy of a Federal License Agreement. This is a wonderful webinar to introduce you to federal license agreements and explain the various terms. You will come away with an understanding of the obligations of both the licensee and the licensor under a federal license agreement. Steve Ferguson is a Special Advisor at OTT and will be sharing examples from the NIH program to show sections and terms of typical license agreements. NIH's technology transfer portfolio is one of the largest in the world, with over 2,000 active licenses with aggregate sales greater than $10B per year. Don't miss this opportunity to learn about federal license agreements and hear specifically from an NIH licensing expert.
The Anatomy of. Federal License Agreement webinar will take place virtually on March 8, 2023 from 12-1PM ET. This session is free. To learn more about this webinar and to register, please visit the Federal Labs website.
Meredith Stein of the NIH Office of Management Assessment will be co-hosting a risk management webinar. This session of great for anyone looking to dive into how risk management principles are applied in federal labs. It will also further cover the foundations of risk management and enterprise risk management that made up the first two sessions of this webinar series. Meredith Stein provides institutional oversight for twelve agency-wide programs. Don't miss this opportunity to learn about risk management in federal labs!
This webinar, titled Risk Management Panel: Application of Enterprise Risk Management (ERM) in Federal Labs, will take place virtually on March 14, 2023 from 12-1PM ET. It is free to attend. More information on this event and how to register can be found on the Federal Labs website.