Dr. Feldmann Elected to the National Academy of Medicine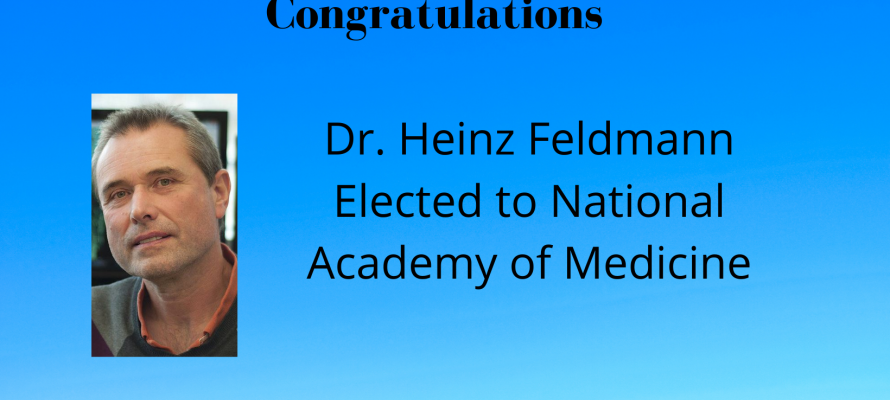 NIH IRP Senior Investigator and Inventor Heinz Feldmann, M.D., was elected to the National Academy of Medicine (NAM). Dr. Feldmann is the chief of the Laboratory of Virology at the National Institute of Allergy and Infectious Diseases (NIAID). He led the development of the technology that resulted in the first Ebola vaccine approved by the FDA and the WHO. Feldmann developed this vaccine while working with other scientists at the Public Health Agency of Canada's National Microbiology Laboratory. The vaccine uses a weakened version of a milder virus that affects certain livestock. It was genetically altered so that it produces the Ebola protein that provokes a protective immune response. NewLink Genetics licensed the technology and in turn licensed it to Merck who made the vaccine available towards the end of the 2014 West African Ebola outbreak and it has been used to halt every Ebola outbreak since.
Dr. Feldmann was elected to the NAM last year. The NAM is made up of over 2,000 elected members from around the globe who give scientific and policy guidance relating to human health. This honor is one of the highest that can be bestowed upon an individual in the health and medicine field. It is given to those who have made critical science discoveries and have demonstrated a commitment to public service.
"We're always running behind nature, and I don't think we'll ever beat it," Dr. Feldmann said in an interview with the NIH I am Intramural Blog, "but we're closing the gap and that is exciting." If you are interested in being a part of closing the gap, check out a list of all of NIH's available technologies, technologies available for licensing or collaboration with NIAID, or Ebola-related technologies.