AUTM Better World Project Open for Voting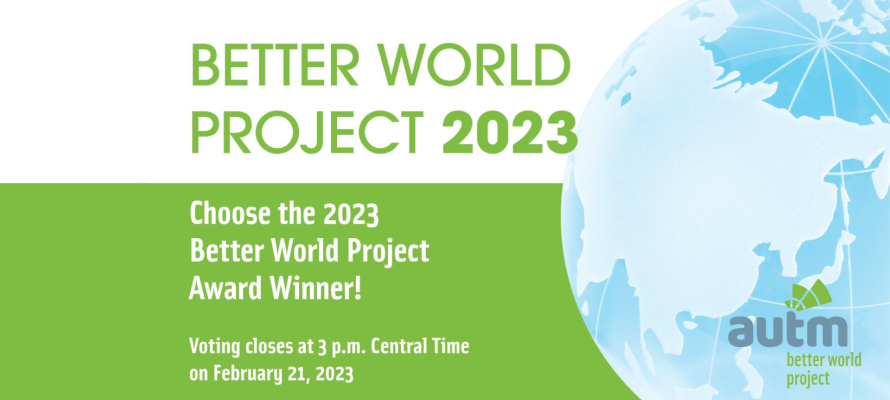 AUTM hosts the Better World Project Award every year to recognize technology transfer professionals who support a better world through their work. This award is given to a technology transfer office whose featured technology has been licensed and is for sale or a prototype is in use. They are looking for technologies that exemplify the amazing opportunities for partnership between academia, government, and industry.
There are three finalists for this year's award. The iStent Ocular Tube, a microinvasive glaucoma surgical device that relieves glaucoma pressure was developed by Dr. Richard Hill, a physician at the University of California, Irvine.
The EKKO Wave Therapeutic Device uses vibrational waves to affect neural activity in the brain and body to treat neurological disorders including cerebral palsy, autism, and more. It was developed by researchers from National University of Science and Technology in Pakistan.
Lastly, a novel protein sub-unit vaccine for COVID-19 was developed by scientists at the Baylor College of Medicine (BCM) and Texas Children's Hospital. BCM Ventures chose not to file patent protection on this technology. After receiving Emergency Use Authorization in India, they distributed 100 million vaccines doses. Drs. Peter Hotez and Maria Elena Bottazzi were nominated for the 2022 Nobel Peace Prize for their scientific advances. Voting is open until February 21st on the AUTM Better World Project webpage.
While there are no NIH innovations to vote for this year, there are three published stories on past NIH projects. A Novel Partnership Tackles Meningitis dives into the story of a unique public-private partnership that did not follow the traditional path of licensing. NIH licensed a meningitis vaccine production technology to PATH, a nonprofit with a public health focus, who was partnering with the Meningitis Vaccine Project (MVP) with the goal of producing a meningitis vaccine for Sub-Saharan Africa for 50 cents per dose. This successful partnership resulted in the MenAfriVac vaccine being given to more than 100 million people the first two years of vaccinations. In the year after MenAfriVac's rollout, the three countries that had been involved, Burkina Faso, Mali, and Niger, had the lowest number of group A meningitis cases ever recorded during an epidemic season.
Kepivance Improves Quality of Life for Cancer Patients covers the story of a National Cancer Institute research team led by Jeffrey Rubin, M.D., discovering a compound that proved effective in fighting oral mucositis. Oral mucositis are ulcerations that attack the lining of the mouth and can make eating, drinking, swallowing, and talking painful or impossible. This compound was developed into a therapeutic by Amgen that could reducing the incidence and duration of oral mucositis in leukemia patients receiving bone marrow/blood cell transplants. This drug was a first to market treatment for oral mucositis. It benefits the 11,000 adult Americans who receive bone marrow transplants each year.
HPV Vaccine: Global Effort Defeats Cancer-Causing Virus highlights the story of the world's first vaccine against human papilloma viruses (HPV). These vaccines had a long and interesting research process involving the NIH, Georgetown University, German Cancer Research Center, University of Queensland, Australia, and the University of Rochester Medical Center. Two NIH principal scientists, Douglas Lowy M.D., and John Schiller, Ph.D., were able to expand on the research done at these universities and develop techniques for large-scale production. This vaccine was a vital public health invention as the 100+ known types of HPV affect at least 50 percent of sexually active people at some point in their lives.
If you are interested in licensing or collaborating on a technology to help create a better world, you can view all of the technologies that the NIH has available.